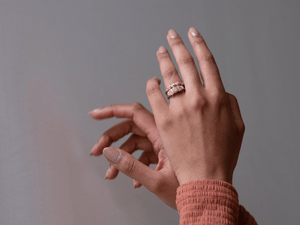 If you love the style of my work but have a specific design or special stone in mind, we can work together to create your perfect piece.
The Process
Meet
We meet in-person or virtually to discuss your ideas and view the collection of jewellery and stones in my studio.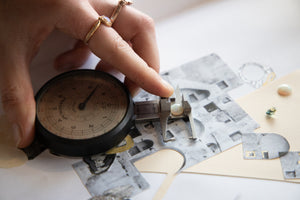 Design
I will communicate a design concept to you using sketches and collages. If special stones are required I will source them.
Refine
Working with your feedback, I will refine your design. A final sketch will be provided to confirm the specifications of your piece.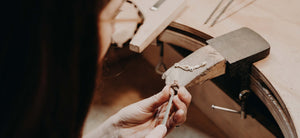 Make
The construction process begins! Made right here, in Melbourne. Expect your piece to be completed in 4-8 weeks.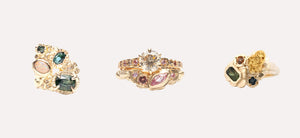 How could we be so lucky!? Kim is a gem! She designed, and made a very special ring for us. An absolute pleasure to work with, she is reliable, friendly, fun and always makes time. We had many zooms together designing the ring and there was never an issue. Kim is honest, patient and easy going. She is incredibly talented, her level of skill, careful craft and an ability to do absolutely anything is astounding. The ring is a knockout stunner, I get compliments on it everywhere I go and I always make sure to tell admirers who made it. When it arrived in New Zealand we cracked a bottle of champagne and I cried. The ring holds within its many facets and stones, joy, memory, energy and love and I get to wear it on my finger every day. I will be back. 
I was lucky enough to work with Kim who designed and created both my bespoke engagement ring and wedder. She is an incredible jeweller who is wonderful to deal with, making the client a central part of her bespoke process. She takes her time to get to know her client and reflects their personality and requests into the pieces she designs. Her designs are organic, unique and beautiful. I absolutely adore my rings and cannot recommend Kim highly enough!
I approached Kim Victoria after meeting three people (coincidentally) who had pieces done by her, being drawn immediately to her unique, understated glam style that I fell in love with. Her design was breathtaking, and found a way to make my old wedding rings suit my personality in a classic yet edgy way. She spent an inordinate amount of time and care dealing with the issue of my arthritis, coming up with many models to ensure it wouldn't slide around my small finger but could fit over my swollen knuckles. Kim Victoria is a true artist – I wake up each day to my ring and feel a deep connection with the magical piece on my hand. I truly value the time and thought she put into it.